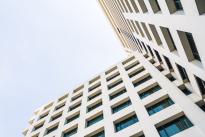 Real Estate Ownership starting with only 50€/month*
Discover our fractional ownership model now and sign up to our monthly subscription packs.
* Minimum 12 months commitment
Regular small steps lead to big success
At BlocHome, we believe that everybody should have the opportunity to become a home owner. We are drastically lowering the barriers to entry with our monthly subscription model. Buy small slices of our thriving real estate portfolio starting with just 50EUR!
Enter effortlessly into the market
Get set up with our team and streamline your monthly deposits with direct debit.
Make your savings work for you
Treat the real estate market like your savings account, and let your money appreciate with it
Join a growing community
Just like you, the BlocHomers community wants to challenge the status quo in real estate ownership.
Discover our monthly subscription packs
* Boosters are optional and allow you to invest up to 10x your subscription amount with ZERO fees
Strategic Pack
Starting at
50€
Benefits
0% transaction fees for 1 year
1 booster* every 6 month
BHT at a fixed rate
Optimal Pack
Starting at
200€
Benefits
0% transaction fees for 1 year
1 booster* every 6 month
BHT at a fixed rate
Ready to subscribe?
Want to find out more? Fill out the form below. One of our agents will contact your and help you get set up with a pack that matches your goals. Just curious? No worries. Filling the form does not constitute ANY commitment at this stage.
Dip into real estate with a piece of our diverse portfolio

In progress
Flora Residence
Our latest real estate development project. Stay tuned!
Estimated delivery date
24 Months
Take control of your real estate journey in 3 easy steps
1
Create your account
Complete your KYC and get your account verified within 48h.
2
Gradually acquire real estate
Start investing with as little as 1.000€ & top up at any time.
3
Buy & sell on our secondary market (coming soon)
Buy, sell and track your ownership freely through our billboard.
Get Started